Care decisions are sometimes tough because there is no one-size-fits all approach or formula for the care giver or the person receiving care. If quality care and the overall health improvement and happiness derived from highly exceptional service delivery matters to you, Caresify is the right place.
We take the time to listen and we take the energy to understand your needs so that we can tailor a care plan that works for you and only you because you are unique. We give you the option to choose a care giver based on interest, distance and certification.
Caresify is equipped with experienced caregivers to provide care services to assist clients with needs related to Parkinson's,diabetes, depression, Alzheimer's, Dementia and other conditions.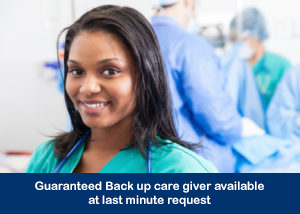 Services Offered includes but not limited to the following

Terminal Care,
Bathing Assistance
Dressing Assistance
Meal Planning and Preparation
Ambulating Assistance
Transportation
Laundry & Linen
Incontinence Care
Medication Reminder
24 hour / hourly Care
Light Housekeeping
Errand Service/Shopping
Home making
Personal Hygiene

We provide care givers or family members in need of a temporary break with a backup care giver, just to ensure that persons needing care is continually cared for in the short absence of the primary care giver. Respite care gives you the opportunity to plan and take the break you so much desire to either rest or engage in other non related work activities. Now you can attend to your emergencies without abandoning your client or loved ones.

We provide full time care at home services to clients needing round-the-clock care. Our licensed care givers lives with the client to ensure their needs are met. They are available through day and night to provide care if and when necessary. Live in care is an alternative to moving your loved ones into a nursing or care home. It allows them to stay in their own home and at the same time meet their changing needs. Our care givers activities include escorting the client to physician's appointment and more. Personal Care, medication, meal preparation, crisis management, risk of fall management and light house cleaning are some of the services our competent care givers provide while they live with the client.
Alzheimer's, Dementia & Other Conditions care

We provide intensive in-home care to Alzheimer's and Dementia clients. Care decisions are sometimes tough because there is no one-size-fits all approach or formula when dealing with Alz but our team of certified care givers are trained to handle Alz care at various stages. They are patient, respectful and loving. This condition are sometimes seen as challenging and overwhelming for the family members but our team of care givers are specially trained and certified to care for people living with this condition in their homes. Our Care givers comply with HIPPA policy and all matters of the client is kept with utmost confidentiality. We work with various support groups in order to continually equip our team with what's new and how it can be used to help each individual improve overall health. Early stage preparation can help to smoother transition for everyone and our team of qualified coordinators will include the person with ALZ condition in the decision making process as much as possible and if dementia is at an advanced stage, family members can also guide based on knowing what their wish were or would be. We are non-discriminatory and we comply with all applicable laws prohibiting discrimination.
Family members sometimes prefer to take on caregiving for their loved ones with this condition but they also have to struggle with meeting their own personal needs such as jobs, responsibility and health which often makes caregiving an overwhelming challenge. Our in house community with the help of a wider network lessens what seems to be a burden by providing over the phone and one to one support for the family member who wishes to care for their loved ones. The person requiring care at a later stage may require round-the-clock care and our live-in care givers have been trained to respond and adjust accordingly.
Sensory experiences and socialization without overstimulation or stress can help improve daily routine and we work with family members and friends for memories of interest our client used to have so that we can tailor the interest to the current level of ability without getting the client frustrated.
Depending on the clients' interest, we may stimulate different senses of sight, smell, hearing and touch. We try singing songs, telling stories, dancing, walking or swimming. We also try tactile activities such as painting, working with clay, gardening or interacting with pets if it works with the client.
We plan outdoor activities since its proven to be therapeutic. We go for a drive, visit a park or take a short walk and sometimes we just sit on a balcony or back yard if it's relaxing for the client.
Caresify is equipped with experienced caregivers to provide care services to assist clients with needs related to Parkinson's, diabetes, depression and other conditions.
We provide Instrumental activities of daily living (iADLs) care such as meal preparations, reminders for taking medications as prescribed, safety procedures and emergency response, managing money, shopping for groceries or clothing, use of telephone or other forms of communications and transportation within the community.
We also provide In-Home activities of daily living care for seniors or people with conditions limiting them to perform their daily activities such as feeding, personal hygiene, toilet hygiene, bathing, dressing, grooming, work, ambulating (walking), toileting, homemaking and leisure. Depending on the client, we use physical therapy such as light exercise to assist clients in maintaining and gaining independence.
These exercises are designed based on which component the client lacks such as walking speed, strength, balance and coordination. Slow walking speed is often associated with increased risk of fall and with light routine exercises, walking speed is enhanced which reduces the risk of fall; allowing for safer and more functional waling capabilities.